Doors to another world
All of my museum installations are unique objects characterized by my artistic engagement with each location and the particular event or theme. I work with museums as an international set designer. Using a few museum objects, I make challenging themes accessible on an artistic level.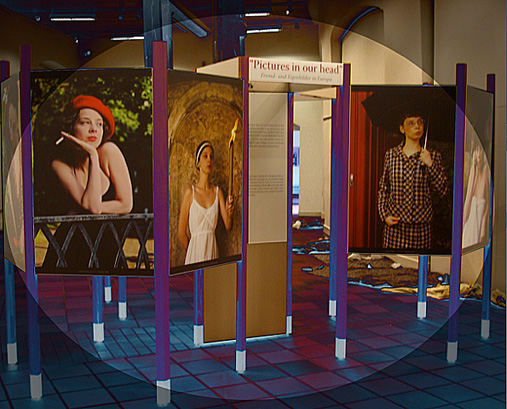 In the traveling exhibition "Pictures in Our Head" (Historisches Museum im Marstall Schloß Neuhaus, Paderborn, 2010) I tried to bring the difficult concept of "stereotypes" to life for museum visitors (school groups) with Maschinenraum (engine room), a unique, three-dimensional walk-in installation. Each stop of the exhibition tour featured only one object from the museum. Everything else in the installation had to be expressed through imagery and my interpretation of the theme. My exhibitions are very visual and tactile, and are especially designed for children or marginalized groups (illiterate people, disabled people or Roma gypsies).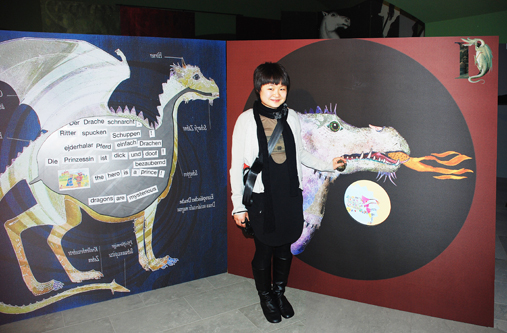 Since my audiences often cannot read or write, I try to reach them using distinct, archetypal images reduced to their essentials. My installations often have a magical element to them. "Von Drachen und Helden" (Of Dragons and Heroes) presented at the Bode Museum, Berlin, in 2010 is one example. At this exhibition, children snuggled on the soft cushioned surface of a dragon's back and listened to exciting stories heard through loudspeakers hidden inside scale-shaped pillows. The dragon's outspread wings were lined with a light installation that twinkled over the children's heads like the night sky.
Other exhibitions, like "Das essen wir. Wir essen Reis." (We eat that. We eat rice. JuniorMuseum, Berlin-Dahlem, 2011), feature walk-in atmospheric installations that immerse visitors in exotic worlds.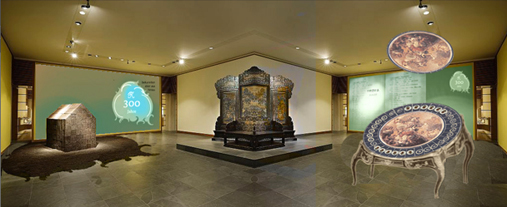 The sense of touch is always an important aspect of my work. I carefully select and prepare materials and surfaces that stimulate all the senses and evoke sensual, emotional and physical awareness. In my exhibitions, objects can and should be grasped in the truest sense of the word – "touching is strictly allowed." I am also very careful when choosing colors and pay special attention to their specific effects in the thematic context.
My exhibitions, especially those with historical themes, feature interactive media that create a connection to the present day. This puts dusty old museum information and objects in a more contemporary light. One example is the 3D box in the exhibition "comicleben" (comic life, Museum of European Cultures, Berlin-Dahlem, 2012). I used mirrors to project three-dimensional animations onto human-sized glass panes. Behind these mirrors, visitors became part of the virtual reality, real-life protagonists, and superhero sidekicks.
Visitors interact with the objects in my installations, for instance, at the large shadow-play wall for the exhibition "Schahname – 1000-jähriges Königsbuch" (Shahnameh – 1000 years of The Book of Kings, Museum of Islamic Art, Berlin, 2011). Students from my master class for "Scenic Spatial Stage Design" at the TU Berlin helped design and build this installation.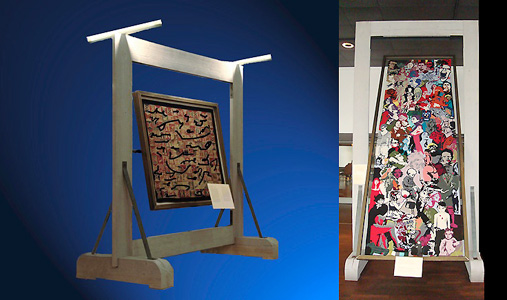 A traveling art installation for the exhibition "Youth on the Move" (2013 Humboldt University, Berlin) transformed a street into a museum. This was also the case for the installation "Pécs – Fünfkirchen – Pecuh, Bilder einer multiethnischen Stadt" (Pécs – Fünfkirchen – Pecuh, Images of a Multi-Ethnic city, December 2009 – June 2010, Pécs, Southern Hungary). A mental map honoring the European Capital of Culture 2010 was displayed in the museum and outdoor space.

The guiding principles for my work are to collect, process, and share, as well as to see, design and communicate.
Xaver Victor Schneider is an architect and stage designer. His working experience in Munich, London, Salzburg and Berlin includes: architecture/engineering, interior concepts and expansions, exhibition design for museums and stage design with technical equipment. He currently lives in Berlin.