"Stroke" and my Caddy
We can't often proclaim that "A car saved my life!"
Can I say this, perhaps?
Since the 1970s, when I would go to bed with a row of toy cars either side of me, I have been passionate about cars. As a shy child, cars became my comfort zone, bringing me peace in what would become a life-long battle with social phobias and bipolar disorder. Travelling in Dad's car gave me a real thrill.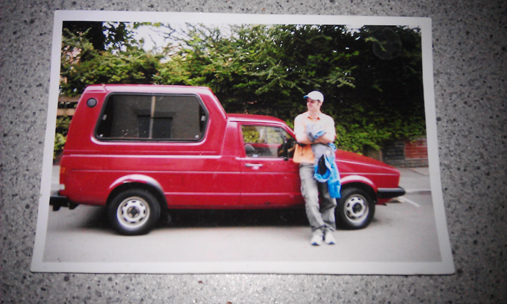 Throughout those early years, Dad owned some really cool cars. I cherish the memory of summer trips from our Lancashire home to see family in Scotland,cruising empty country lanes and motorways in the wee small hours. Those journeys took me to another world, away from rowdy classrooms and playgrounds, where my shy demeanour gave all level of bullies the ammunition to ply his or her trade. I couldn't understand why all these people hated me. "Why can't everyone be nice and just talk about cars," I thought to myself, as I struggled to fight my way out of yet another headlock.
I couldn't wait to leave school and start work, so I could save up and buy my dream car. My working life had been planned out for me, so I reckoned I could buy it within three years of leaving school. I was to learn the family trade, starting on the factory floor in Dad's window blind manufacturing business and rising steadily up the ranks. But suddenly our lives were turned upside down.
Dad suffered a brain haemorrhage at just 44 years of age, following months of a mystery illness. I'd just turned 16. I didn't know at the time, but Dad had been suffering from sickness and headaches for a couple of years leading up to his aneurism. During his prolonged recovery, Dad's best friend and business partner sold the company and disappeared, leaving our family out on the street.
Now, he'd lost his health, wealth and had been betrayed by his closest friend. We were all filled with uncertainty, dread and fear. Things were never the same and my father changed completely, as did the rest of my family. I simply could not stay connected to them.
Time passed by. Despite all kinds of difficulties, I managed to have car-related occupations. Emotionally and physically exhausted, I broke down whilst visiting my best friend in Sheffield. I decided to start a new life in Yorkshire. There was relief at first, and some peace, but I missed my family every day. The years passed as I survived on my chosen path.
I'd spent a decade keeping my family at arm's length, when, all of a sudden I found myself reconnecting with my Dad. He had realised that he had neglected his family, so he was now putting us first. This seemed like the dawn of a second chance to be close with my family. I was enjoying the drive over to Lancashire again. We had to work at it, but I was starting to believe that we had a future. Alas, within three months, Dad suffered a serious stroke that left him paralysed and needing special care 24/7. I felt robbed of my chance to have a Dad again, and fell into a serious depression.
Soon after, I stumbled across a Volkswagen Caddy MK1 pick-up for sale online. I love Volkswagens, and would occasionally window shop on good old eBay, checking out all the cool cars, some of which I've owned and others I can only dream about. I took one look at this odd-looking car in a rather unpleasant dark red colour. Although it was covered in dents and generally scruffy, I was hooked immediately because its description included the words "wheelchair access."
It turned out to be the first vehicle in Europe able to transport two wheelchair passengers, converted from new by Constables Mobility in the South of England. I had to have it, as the thoughts of taking Mum and Dad out on day trips from his care home ran through my mind. My despair turned into euphoria as excitement and adrenalin filled my body. I paced around the flat as I waited for the auction to end. I hoped no one would outbid me. We had the highest bid at £720. I placed our maximum bid of £1000 and closed my eyes! Congratulations. You've won!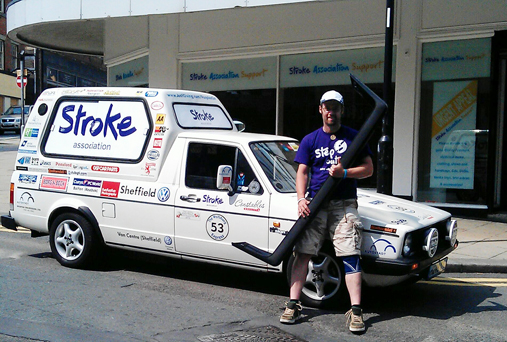 I use the car in my volunteer work with the UK's Stroke Charity. I first approached them in 2011, inspired by the amazing fundraising and awareness work my late cousin Michelle had done for cancer research. Stroke UK invests in research and support for stroke victims and their families. As soon as I read through their website I wanted to help raise awareness. Stroke is the biggest cause of adult disability and kills over 100,000 people in the UK every year. With FAST and correct care and treatment, many people are able to recover well.
I have covered over 20,000 miles around UK and Europe with Stroke Association signs on my converted Caddy. It turns heads everywhere I go, so I know it is helping some of those people who take notice. This gives me a sense of relief, and in a way I feel Dad is still contributing to everyday life through my mission, even though he can never leave his bed.
Volunteering for the UK's first Stroke Association Support charity shop in Sheffield is almost an unbelievable opportunity to carry on using the vehicle, for hopefully some time to come. I was going through another bad depression when I discovered the Stroke shop had recently opened up in my home town. Within a week I was collecting donation bags and I now have more optimism for the future for both me and the "People's Car."
Volkswagen translates into English as "people's car," and that is the perfect description of my odd-looking VW. It exists to support some of the most vunerable people in society, and I hope the signs help prevent one or two strokes from happening. The Stroke Association gives a lot of good advice on stroke prevention, including diet and lifestyle guidance. I wish we'd known more about stroke when Dad had his. We could have played our part in ensuring he had sufficient treatment. Instead, he was left in a hospital room for two days before receiving treatment.
Please take a look at www.stroke.org.uk. It could save your life!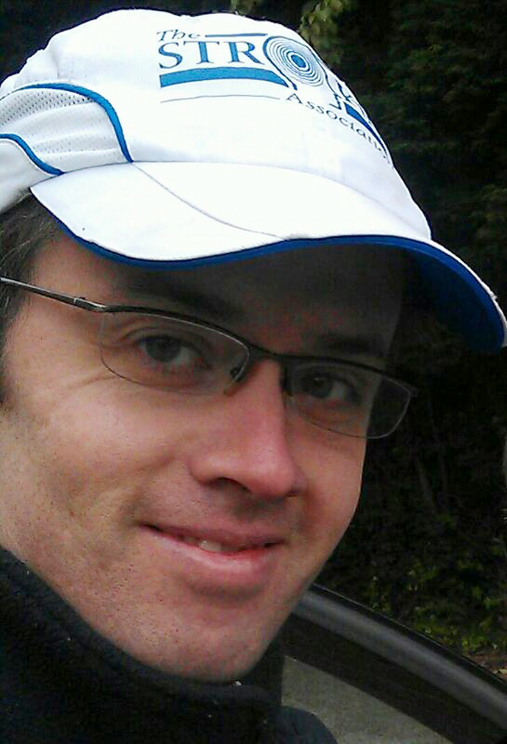 Volunteering for Stroke UK gives me a sense of purpose on this planet. Before, I was always struggling to find "things" to satisfy my existence. Volunteering doesn't solve all my problems, but it certainly helps me cope better with life's challenges, and I've also met some amazingly kind and supportive people.
So, my idea for a better world is to ask everyone to find a good cause, maybe close to your heart, and spend a day or two helping support others. Logically then, If we all give a little from time to time, we can receive something extra special, which money simply cannot buy!
I'd like to encourage other shy people and those with various social phobias to try volunteering for a charity. You may well experience a new lease on life and meet some passionate people who are there to support you whilst you support the cause.
Jay McGreneghan was born on August 6th, 1972. He likes photography, keeping fit, cooking, motorcycles, cars and go-karts, as well as watching motorsport. Jay has loved German cars since he was a young boy. Porsche 911 is his favourite. The steering wheel on his MK1 Caddy is from a 79 Porsche 924.